HIV Vaccine Awareness Day
HIV Vaccine Awareness Day is observed each year to recognize the many volunteers, community members, health professionals, and scientists working together to develop a vaccine to prevent HIV. It is also an opportunity to educate communities about the importance of preventive HIV vaccine research. A safe and effective preventive HIV vaccine is key to ending the HIV pandemic.

HIV research also includes efforts to develop a vaccine for HIV treatment (called a therapeutic vaccine). Treatment with a therapeutic HIV vaccine would ideally keep HIV at undetectable levels without the need for regular antiretroviral therapy (ART).

To learn more, read the ClinicalInfo fact sheets What is a Preventive HIV Vaccine? and What is a Therapeutic HIV Vaccine?

Browse the links on this page to learn more about HIV Vaccine Awareness Day and HIV vaccine research.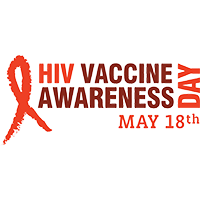 The U.S. Government Observes HIV Vaccine Awareness Day
HIV Vaccine Awareness Day Webpage:
HIV Vaccine Research
NIH Strategic Plan for HIV and HIV-Related Research, from the National Institutes of Health (NIH) Office of AIDS Research (OAR): The NIH HIV research agenda includes HIV vaccine research.

Clinical Trials About HIV Vaccines
Use the ClinicalInfo clinical trials search tool to find studies about HIV vaccines:
Clinical trials about preventive HIV vaccines
Clinical trials about therapeutic HIV vaccines

Call ClinicalInfo at 1-800-448-0440 for help finding clinical trials about HIV vaccine research.

Published Research About HIV Vaccines
From PubMed.gov:

From the Education Resources Information Center (ERIC):
Additional Information About HIV Vaccines
From the National Institute of Allergy and Infectious Diseases:

From the HIV Vaccine Trials Network (HVTN):

From ClinicalInfo:

From HIV.gov:

From NLM AIDSource: