HIV Vaccine Awareness Day
HIV Vaccine Awareness Day is observed every year on May 18 and commemorates U.S. President Bill Clinton's 1997 declaration that, "only a truly effective, preventive HIV vaccine can limit and eventually eliminate the threat of AIDS." It recognizes the many volunteers, community members, health professionals, and scientists working together to develop a vaccine to prevent HIV. It is also an opportunity to educate communities about the importance of preventive HIV vaccine research. A safe and effective preventive HIV vaccine would play an essential role in ensuring the end of the HIV pandemic.
One prevention tool that has remained elusive is finding a vaccine against HIV. At the end of August 2021, Johnson & Johnson announced that an experimental HIV vaccine—a 15-year effort—offered no protection against HIV acquisition. However, there continues to be ongoing efforts to develop a vaccine against HIV. Moderna, Inc., is currently testing an HIV vaccine using the same messenger RNA vaccine technology that proved safe and effective against the coronavirus. A Phase 1 clinical trial began in November 2021.
To learn more, read the HIVinfo fact sheets What is a Preventive HIV Vaccine? and What is a Therapeutic HIV Vaccine?
Browse the links on this page to learn more about HIV Vaccine Awareness Day and HIV vaccine research.
The U.S. Government observes HIV Vaccine Awareness Day.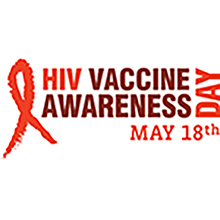 HIV Vaccine Awareness Day Webpage
HIV Vaccine Research
From the National Institute of Allergy and Infectious Diseases:
From the HIV Vaccine Trials Network (HVTN):
From the International AIDS Vaccine Initiative (IAVI):
Clinical Trials About HIV Vaccines
HIV/AIDS-Related Clinical Trials: Research studies related to HIV and AIDS vaccines from ClinicalTrials.gov.
Call the OAR at 1-800-448-0440 for assistance with your clinical trials search.
Published Research About HIV Vaccines
Additional Information About HIV Vaccines
From HIVinfo:
Fact Sheets:
Infographic:
From HIV.gov:
Recent review article: