National HIV/AIDS and Aging Awareness Day
On September 18, 2008, the National HIV/AIDS and Aging Awareness Day (NHAAD) was launched by The AIDS Institute. This day brings awareness to the complex issues related to HIV prevention, care, and treatment for adults 50 years old or older. NHAAD emphasizes the need for data focused on the aging population to help understand the medical and science aspects of the aging process and its impact on older people living with and affected by HIV. People with HIV are living longer thanks to treatment with HIV medicines.
According to the Centers for Disease Control and Prevention (CDC), in 2016, nearly half the people in the United States who were living with HIV were aged 50 or older. In 2017, approximately one in six new diagnoses of HIV occurred in this age group. People aging with HIV can face treatment-related challenges, such as drug interactions between HIV medicines and medicines used for other conditions. Also, the risk for comorbidities such as cardiovascular disease, some cancers, bone fractures/osteoporosis, liver disease, kidney disease, cognitive decline, and aging-related frailty is higher among people with HIV than among those without HIV.
Older adults also face HIV testing and prevention and challenges:
Testing. CDC reports that among the adults aged 55 or older who received an HIV diagnosis in 2015, 50% had been living with HIV for 4.5 years before they were diagnosed. A delayed diagnosis means treatment with HIV medicines is also delayed, which gives HIV more time to damage the immune system. Late diagnoses can occur because older adults may not think they are at risk of HIV, and they may mistake HIV symptoms for those of normal aging. Health care providers may not test older people for HIV infection because of misconceptions that they are no longer sexually active. Providers may be less likely to ask older people about sexual activity — including numbers of sexual partners, using protection and other factors related to HIV.
Prevention. If you are 50 years old or older, there are things you can do to keep from getting or transmitting HIV. Take the following steps to lower your risk. If you are having sex, always use protection if you do not know your partner's sexual or drug history. Before having sex with someone, talk with them about HIV. Ask about their sexual and drug history. See the CDC's HIV Risk Reduction Tool for information about the risk associated with specific sexual behaviors. Use male or female condoms during sexual intercourse and do not share needles or any other equipment used to inject drugs. Ignoring these challenges could contribute to you becoming infected with HIV.
Browse the links below to find National HIV/AIDS and Aging Awareness Day resources and information about HIV and aging.
The U.S. Government recognizes National HIV/AIDS and Aging Awareness Day.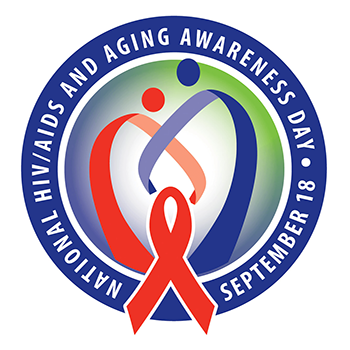 National HIV/AIDS and Aging Awareness Day Webpages:
Research Related to HIV/AIDS and Aging
Current Research Related to HIV and AIDS and Aging
Additional Information and Resources
From CDC:
From HIV.gov:
From HIVinfo:
From the National Resource Center on HIV & Aging:
From the Health Resources & Services Administration:
From the National HIV Curriculum (an AIDS Education and Training Center Program led by the University of Washington):