National HIV Testing Day takes place annually on June 27 to encourage people to get tested for HIV, know their status, and seek care and treatment services. First observed in 1995, the theme for National HIV Testing Day in 2023 is "Take the Test & Take the Next Step," emphasizing that knowledge of HIV status helps people choose options to stay healthy. 
An estimated 1.2 million people in the United States have HIV, but one in seven people with HIV do not know they have it. The Centers for Disease Control and Prevention (CDC) recommends that everyone aged 13–64 get tested for HIV at least once as part of routine health care. Those with certain ongoing risk factors – such as having more than one sex partner since their last HIV test or having sex with someone whose sexual history they don't know – should get tested annually. Some sexually active gay and bisexual men may benefit from more frequent testing (e.g., every three to six months). As part of proactive prenatal care, all pregnant people should receive certain blood tests to detect infections and other illnesses, such as syphilis and hepatitis B.
Testing is the pathway to engaging people in care and reducing the spread of the virus, a key pillar of the National Institutes of Health (NIH) HIV/AIDS research agenda, as well as the National HIV/AIDS Strategy (NHAS) and the Ending the HIV Epidemic in the U.S. (EHE) initiative. 
Research data from a National Institutes of Health (NIH) clinical trial show that receiving an HIV diagnosis soon after acquisition and starting antiretroviral therapy (ART) as soon as possible improves outcomes for people with HIV. Moreover, people with HIV who take ART as prescribed and maintain an undetectable viral load cannot transmit HIV, a concept known as Undetectable = Untransmittable, or U=U. For people who may be at risk of HIV acquisition, taking HIV medicine called pre-exposure prophylaxis (PrEP) or using other HIV prevention tools, can be highly effective at preventing HIV transmission. NIH supports research to develop and test new approaches to increase HIV testing. 
Free HIV tests, including self-tests, are available across the United States. More information may be found at the CDC Find Self-Testing Services in Your State website.
Check out these HIVinfo resources to learn more: 
• HIV Testing (Fact sheet)
• Just Diagnosed: Next Steps After Testing Positive for HIV (Fact sheet)
• The Basics of HIV Prevention (Fact sheet)
• Pre-Exposure Prophylaxis (PrEP) (Fact sheet)
• PrEP vs. PEP (Infographic)
 
Social Media 

Use the hashtag #HIVTestingDay to follow the conversation on social media. Check out social media resources on the HIV.gov National HIV Testing Day webpage or download social media graphics, videos, and other resources on the CDC National HIV Testing Day webpage.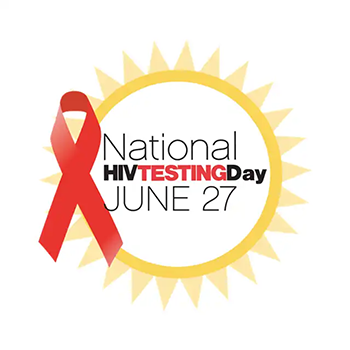 NIH Office of AIDS Research (OAR)
FY 2021–2025 NIH Strategic Plan for HIV and HIV-Related Research (NIH HIV Strategic Plan) The NIH HIV Strategic Plan provides a roadmap for NIH to guide HIV and HIV-related research and direct HIV research funding to the highest-priority areas to help end HIV. NIH has several priorities for HIV-related research. A key research area for fiscal years 2021–2025 is to identify factors that may lead to inequities in HIV testing and develop programs that encourage people to be tested for HIV.
This OAR Director's Blog post highlights National HIV Testing Day 2022 and provides and overview of NIH research on HIV testing and the role of research in developing strategies to increase HIV testing. 
Clinical Trials About HIV Vaccines
HIV Testing Information and Resources
CDC has compiled a list of HIV testing resources designed to make it easy to take ownership of your care, whether an HIV test is positive or negative. Find free, fast, and confidential HIV testing at CDC's GetTested locator. 
HIV.gov, a project of the Office of Infectious Disease and HIV/AIDS Policy at the U.S. Department of Health and Human Services, answers several frequently asked questions about HIV, prevention, testing, and treatment on its HIV Basics landing page. 
The U.S. Department of Veterans Affairs recommends that all veterans be tested for HIV at least once, even those veterans who do not think they have risk factors.