June 27 is National HIV Testing Day, an annual observance to encourage people to get tested for HIV. The 2022 National HIV Testing Day theme is "HIV Testing is Self-care." According to current estimates, the Centers for Disease Control and Prevention (CDC) reports that about 1.2 million people in the United States have HIV, including about 1 in 7 who do not know they have it. CDC recommends that everyone between the ages of 13 and 64 get tested for HIV at least once as part of routine health care. People at higher risk should get tested at least annually. For sexually active men who have sex with men (MSM), more frequent testing may be beneficial (e.g., every 3-6 months). Risk factors for HIV include having vaginal or anal sex with someone who is HIV positive or whose HIV status is not known, having sex with many partners, and injecting drugs and sharing needles, syringes, or other drug equipment with others.
For people with undiagnosed HIV, testing is the first step in maintaining a healthy life and to reduce the spread of HIV. Research data from a National Institutes of Health (NIH) clinical trial show that being diagnosed with HIV early and starting HIV medicines right away improves the outcomes for HIV-infected people. This information highlights the importance of routine HIV testing and its potential impact on people that have the virus. People who get tested and learn they do not have HIV can also make decisions about sex, drug use, and health care that can protect them from HIV. For people at risk for HIV, taking HIV medicine called pre-exposure prophylaxis (or PrEP) is highly effective for preventing HIV.
Browse the links on this page to learn more about HIV testing and to find free, fast, and confidential HIV testing locations near you.
The U.S. Government recognizes National HIV Testing Day.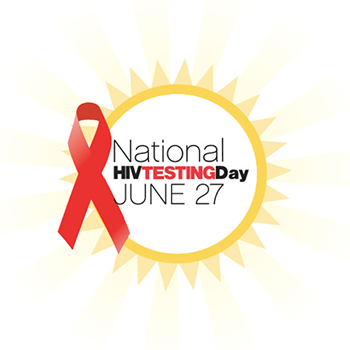 National HIV Testing Day Webpages
HIV Testing Information and Resources
Easy-to-understand HIV-related resources
Free, fast, and confidential HIV testing near you 
Collection of resources about HIV testing, test types, and testing locations 
NIH Resources for Research Related to HIV Testing
Current Research Related to HIV Testing