According to the Centers for Disease Control and Prevention (CDC), about 1.2 million people in the United States have HIV. For people with undiagnosed HIV, testing is the first step in maintaining a healthy life and reducing the spread of HIV.
June 27 is National HIV Testing Day, an annual occasion to encourage people to get an HIV test. CDC recommends that everyone between the ages of 13 and 64 get tested for HIV at least once as part of routine health care. People at higher risk should get tested more often.
Browse the links on this page to learn more about HIV testing and to find free, fast, and confidential HIV testing near you.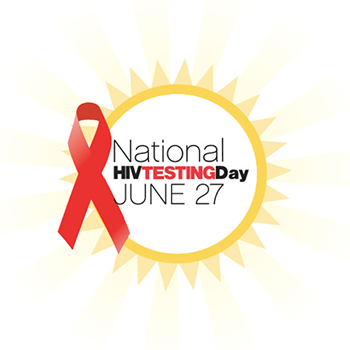 The U.S. Government Observes National HIV Testing Day
National HIV Testing Day Webpages:
HIV Testing Information and Resources
Find answers to your questions about HIV testing:
Find free, fast, and confidential HIV testing near you:
Bookmark this collection of resources about HIV testing, test types, and testing locations:
Research Related to HIV Testing
NIH Strategic Plan for HIV and HIV-Related Research, from the National Institutes of Health (NIH) Office of AIDS Research (OAR): The Plan describes NIH research priorities to prevent, treat, and eventually cure HIV/AIDS.
HIV/AIDS-Related Clinical Trials: Use the ClinicalInfo clinical trial search tool to find HIV-related research studies. Call ClinicalInfo at 1-800-448-0440 for assistance with your clinical trials search.
More Research Related to HIV Testing: