National HIV/AIDS and Aging Awareness Day
September 18 is National HIV/AIDS and Aging Awareness Day—a day to call attention to the growing number of people living long and full lives with HIV and to aging-related challenges of HIV prevention, testing, treatment, and care.
People with HIV are living longer thanks to treatment with HIV medicines. According to the Centers for Disease Control and Prevention (CDC), in 2016, nearly half the people in the United States who were living with diagnosed HIV were aged 50 or older. In 2017, approximately one in six new diagnoses of HIV occurred in this age group. People aging with HIV can face treatment-related challenges, such as drug interactions between HIV medicines and medicines used for other conditions.
Older adults also face HIV prevention and testing challenges. CDC reports that among the adults aged 55 or older who received an HIV diagnosis in 2015, 50% had been living with HIV for 4.5 years before they were diagnosed. A delayed diagnosis means treatment with HIV medicines is also delayed, which gives HIV more time to damage the immune system. Late diagnoses can occur because older adults may not think they are at risk of HIV, and they may mistake HIV symptoms for those of normal aging. Health care providers may not always test older people for HIV infection.
Browse the links below to find National HIV/AIDS and Aging Awareness Day resources and information about HIV and aging.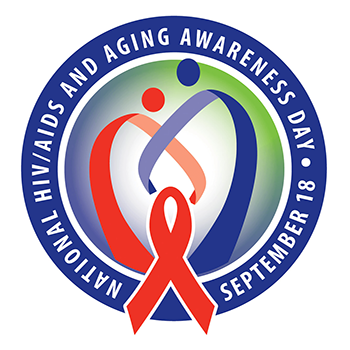 The U.S. Government Observes National HIV/AIDS and Aging Awareness Day
National HIV/AIDS and Aging Awareness Day Webpages:
Research Related to HIV/AIDS and Aging
NIH Strategic Plan for HIV and HIV-Related Research, from the NIH Office of AIDS Research (OAR): The Plan describes NIH research priorities to prevent, treat, and eventually cure HIV/AIDS. Aging is a consideration across areas of NIH HIV research.
HIV/AIDS-Related Clinical Trials: Research studies pertaining to HIV and aging, from the HIVinfo clinical trials search. For help with your search, call HIVinfo at 1-800-448-0440.
Published Research Related to HIV/AIDS and Aging:
Information and Resources on HIV/AIDS and Aging
Fact sheets on HIV and aging:
HIV treatment recommendations for older adults:
Comprehensive collection of resources: