National Native HIV/AIDS Awareness Day
National Native HIV/AIDS Awareness Day began in 2007 to promote HIV education, testing, prevention, and treatment in the Native communities. This day highlights efforts to fight HIV/AIDS and the impact HIV/AIDS has had on Native communities, which include American Indians/Alaska Natives, and Native Hawaiians. The 2023 theme is "Weaving Our Horizon:Strength.CommUnity.Equity." which celebrates continued efforts to reduce HIV/AIDS in Native communities.
In 2019, the American Indian/Alaska Natives group there was an estimated 230 new HIV infections (HIV Incidence, CDC). From 2015 to 2019, diagnosis of HIV infection among men who have sex with men (MSM) in the American Indians/Alaska Natives population has increased by 24% and decreased by 46% in multiracial MSM. During this same time period, the rate of deaths of adults and adolescents with HIV in this population decreased by 19% (HIV Surveillance Report, CDC).Some of the challenges Native communities face include lack of awareness of their HIV status, alcohol and illicit drug use, data limitation, high rates of sexually transmitted diseases (STD), stigma and confidentiality, socioeconomic issues, and cultural diversity which can negatively affect HIV-related outcomes for Native people. In 2019, 40% of newly diagnosed HIV infections were American Indian/Alaska Native adult and adolescent females who inject illicit drugs compared to White females at 36% (HIV Surveillance Report, CDC).
The U.S. Indian Health Service developed a Tribal HIV/STD Training Kit and Policy Guide (IHS). The kit contains facts about sexual health, tools for accessing community readiness to implement a sexual health program, and additional resources to help prevent the transmission of HIV and other STDs in the Native communities. To get the latest data on HIV among Native people, learn about the prevention challenges that some Native people face, to learn more about National Native HIV/AIDS Awareness Day, and find HIV/AIDS-related information specific to Native people please browse the links on this page.  
The U.S. Government recognizes the National Native HIV/AIDS Awareness Day.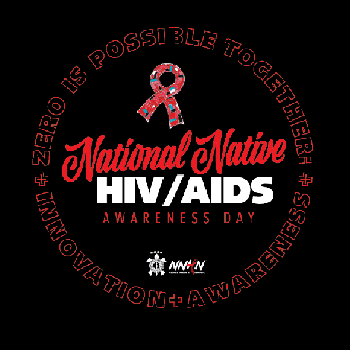 National Native HIV and AIDS Awareness Day Webpages
NIH Research Related to HIV/AIDS in American Indians, Alaska Natives, and Native Hawaiians
Current Research on HIV/AIDS and Native Americans
Additional Information and Resources
From the Indian Health Service:
From CDC:
From HIVinfo, the HIV Source: