National Native HIV/AIDS Awareness Day
National Native HIV/AIDS Awareness Day highlights the impact of HIV and AIDS in Native communities, which include American Indians, Alaska Natives, and Native Hawaiians (collectively referred to as Native people), as well as ongoing efforts to reduce HIV and AIDS in these communities. The annual observance, which was initiated in 2007, is set aside to promote HIV education, testing, prevention, and treatment in Native communities. The theme for 2022 is "Reflection. Celebration. Rejuvenation."
According to the Centers for Disease Control and Prevention (CDC), in 2018 in the U.S. and dependent territories Native people had an incidence of new HIV diagnoses similar to the general population. However, the number of HIV diagnoses has increased over time. Get the latest data on HIV among Native people, learn about the prevention challenges that some Native people face, and find out how the CDC is making a difference.
Browse the links on this page to learn more about National Native HIV/AIDS Awareness Day and to find HIV/AIDS-related information specific to Native people.
The U.S. Government Observes National Native HIV/AIDS Awareness Day.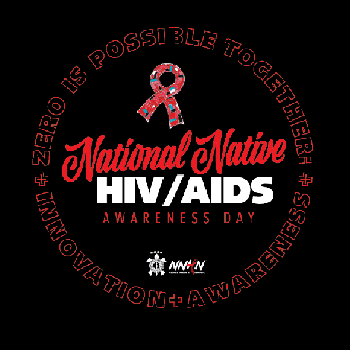 National Native HIV and AIDS Awareness Day Webpages
NIH Research Related to HIV/AIDS in American Indians, Alaska Natives, and Native Hawaiians
Current Research on HIV/AIDS and Native Americans
Additional Information and Resources
From CDC:
From the Indian Health Service:
From HIVinfo, the HIV Source: