National Transgender HIV Testing Day
National Transgender HIV Testing Day (NTHTD) is observed each year on April 18. It recognizes the importance of routine HIV testing, status awareness, and continued focus on HIV prevention and treatment efforts in people who are transgender or gender nonbinary. NTHTD was established in 2016 by the Centers for Disease Control and Prevention (CDC) and the University of California, San Francisco Transgender Center of Excellence.
In 2019, adult and adolescent transgender people composed 2% of new HIV diagnoses in the United States. Transgender people face many challenges in the prevention, testing, and treatment of HIV. HIV stigma may prevent transgender people from learning about their HIV status. For example, it was found that HIV stigma was associated with delaying regular HIV testing among some young transgender women. While many people taking HIV medicines are virally suppressed, skipping doses of HIV medicines can quickly change their viral loads. Transgender people also face challenges in maintaining viral suppression due to multiple missed doses of HIV treatment, missed medical appointments, HIV stigma, transphobic discrimination, and difficulty accessing other important health care services. Data show that 43% of transgender people with HIV missed at least one medical appointment in the past 12 months, delaying their viral suppression (HIV and Transgender People: Viral Suppression, CDC).  
The National Institutes of Health (NIH) supports research to address factors that cause disparities in HIV prevention, incidence, and treatment among different populations, including transgender people. The Sexual & Gender Minority Research Office (SGMRO) conducts Health Research Regional Workshops, Listening Sessions, and the SGM Administrative Supplements Program. The work that SGMRO undertakes helps to enhance our understanding of the health disparities encountered by transgender individuals.   
Browse the links on this page to learn more about this annual observance and to find related transgender-specific information on HIV and AIDS.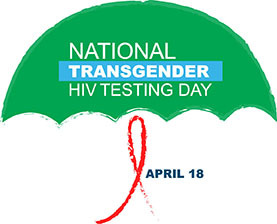 National Transgender HIV Testing Day Webpages
From the CDC
From HIV.gov
NIH Research Related to HIV and AIDS in Transgender and Nonbinary People
Current Research Related to HIV and AIDS in Transgender and Nonbinary People
Additional Information and Resources
From HIVinfo
From the CDC