National Youth HIV & AIDS Awareness Day
National Youth HIV & AIDS Awareness Day is observed each year on April 10 to highlight the impact of HIV and AIDS in young people, as well as to recognize ongoing efforts to reduce HIV and AIDS in this population. This awareness day, which started in 2013, is directed by the Advocates for Youth.
In 2020, youth ages 13 to 24 years made up 20% of all new HIV diagnoses in the United States and dependent territories. Adolescence and young adulthood are critical periods of human development, and an important time to lay the foundations of good health. Some factors that contribute to the HIV burden are early sexual debut, unprotected sex, and low HIV and sexual health knowledge. It is important for youth to receive prevention services, such as sexual education at schools. Condom use has decreased among sexually active students from 60% in 2011 to 52% in 2021, however, fewer students are currently sexually active. The number of youth who have ever had sex is down from 47% in 2011 to 30% in 2021. Getting tested is key for prevention and only 6% of high school students have ever been tested for HIV (HIV Information and Youth, CDC).  
The National Institutes of Health (NIH) supports research to address factors that cause disparities in HIV prevention, incidence, and treatment among different populations, including youth. NIH established the Adolescent Medicine Trials Network for HIV/AIDS Interventions (ATN) to examine the health and well-being of youth. ATN's goal is to increase awareness of HIV status among youth and improve access to health care. ATN sponsors three research projects: CARES, iTech, and Scale It Up. ATN is the only domestic, multicenter research network devoted to the health and well-being of youth at risk for HIV.  
Browse the links on this page to learn more about this annual observance and to find related youth-specific information on HIV and AIDS.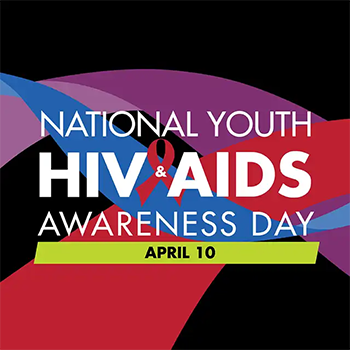 National Youth HIV & AIDS Awareness Day Webpages
From Advocates for Youth
From HIV.gov
From the CDC
NIH Research Related to HIV and AIDS in Youth
Current Research Related to HIV and AIDS in Youth
Additional Information and Resources
From the CDC
From HIVinfo