National Youth HIV & AIDS Awareness Day
National Youth HIV & AIDS Awareness Day is set aside each year to highlight the impact of HIV and AIDS on young people as well as ongoing efforts to reduce HIV and AIDS in this population. This awareness day, which started in 2013, is directed by the Advocates for Youth.
About 5 million youth live with HIV, globally. In 2018, youth aged 13 to 24 years made up 21% of new HIV diagnoses in the United States and dependent territories. The disproportionate impact of HIV among racial and ethnic minority groups is greater among youth aged 13 to 24 years than in those older than 24 years. More than 50% of new HIV infections in this age group were among Blacks and African Americans, and 27% were among Hispanics and Latinos; 87% were male, with 92% identifying as men having sex with men. The Centers for Disease Control and Prevention reports that youth with HIV are the least likely of any age group of people with HIV to be linked to care in a timely manner and are, therefore, least likely to have a suppressed viral load.
The National Institutes of Health (NIH) supports research to address factors that cause disparities in HIV prevention, incidence, and treatment among different populations, such as youth. The NIH also sponsors the development and distribution of the U.S. Department of Health and Human Services HIV/AIDS Treatment and Prevention Guidelines, which are used by clinicians in the United States and around the world to provide treatment and care to different populations with HIV, including youth.
Browse the links on this page to learn more about this annual observance and to find related information on HIV and AIDS specific to youth.
The U.S. Government recognizes National Youth HIV & AIDS Awareness Day.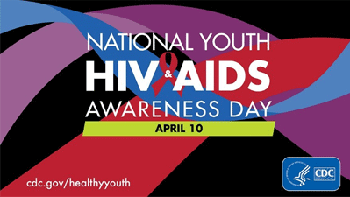 National Youth HIV & AIDS Awareness Day Webpages
From CDC:
From HIV.gov:
NIH Research Related to HIV and AIDS in Youth
Current Research Related to HIV and AIDS in Youth
Additional Information and Resources
From CDC:
From HIVinfo: