In 1988, World AIDS Day became the first international global health day. It is recognized annually on December 1, and global efforts to prevent new HIV infections, increase HIV awareness and knowledge are promoted. In observance of the day, this year's theme is "Putting Ourselves to the Test: Achieving Equity to End HIV". This theme calls to action activities that address the economic, social, cultural, and legal inequalities necessary to End the HIV Epidemic. To achieve the 2030 goal of reducing the number of new HIV infections in the U.S. by 90%, it will require several key strategies involving, testing, prevention, and treatment.
Testing: In 2019, less than 40% of Americans had been tested for HIV (CDC). According to the Centers for Disease Control (CDC), about 13% of people in the U.S. do not know they have HIV. Early detection is linked to rapid treatment and improved health. Increasing availability of services will address the inequalities some communities face with HIV.
Prevention: Effective HIV prevention methods are available, including pre-exposure prophylaxis (PrEP) and post-exposure prophylaxis (PEP). On December 20, 2021, long-acting injectable PrEP was approved. By 2025, the goal is to increase PrEP use to 50% by using an injectable PrEP which is a safe and effective prevention option.
Treatment: HIV medicines are available to help people with HIV live long and healthy lives. The sooner a person starts treatment, the more effective it is to reach viral suppression and have better health outcomes. By the end of 2019, 56.8% of all people with HIV in the U.S. are virally suppressed or undetectable (CDC). People living with HIV who consistently take antiretroviral therapy daily can achieve an undetectable viral load, Undetectable = Untransmittable. Remaining undetectable is key to staying healthy and to prevent disease progression.
NIH Strategic Plan for HIV and HIV-Related Research serves as a guiding framework to advance the NIH-wide HIV research agenda in prevention, treatment, and cure that extends across the lifespan and is inclusive of all persons with or at risk for HIV. Bold action needs to take place against inequalities, including the lack of access to HIV prevention, testing and treatment, as well as stigma and homophobia.
The only way to know your HIV status is to get tested. Find HIV prevention services, including HIV testing, near you at the CDC HIV Testing webpage.
The U.S. Government observes World AIDS Day.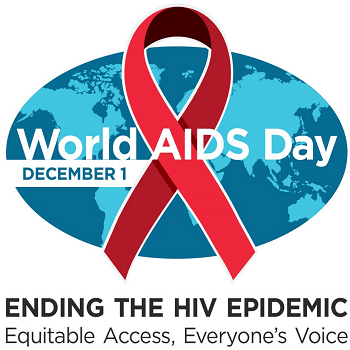 World AIDS Day Webpages
HIV-Related Information and Resources from HIVinfo (non-technical)
HIV-Related Information and Resources from Clinicalinfo
Additional HIV-Related Information and Resources