First observed in 1988, World AIDS Day is the first ever international day for global health. Held each year on December 1, it is an opportunity to celebrate and support global efforts to prevent new HIV infections, increase HIV awareness and knowledge, and a call to action to move toward the bold plan of Ending the HIV Epidemic in the U.S. The U.S. Department of Health and Human Services (HHS) 2021 theme for this observance day is "Ending the HIV Epidemic: Equitable Access, Everyone's Voice".
First announced in 2019, the Ending the HIV Epidemic in the U.S. plan seeks to reduce the number of new HIV infections in the U.S. by at least 90% by 2030, leveraging critical scientific advances in HIV prevention, diagnosis, treatment, and outbreak response.
HIV medicines are now available to help people with HIV live long, healthy lives. In addition, effective HIV prevention methods are available, including pre-exposure prophylaxis (PrEP) and post-exposure prophylaxis (PEP).
The U.S. Government observes World AIDS Day.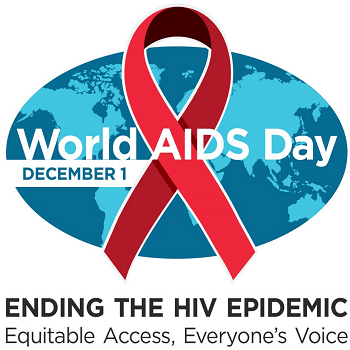 World AIDS Day Webpages
HIV-Related Information and Resources from HIVinfo (non-technical)
HIV-Related Information and Resources from Clinical Info
Additional HIV-Related Information and Resources