HIV Long-Term Survivors Day
On June 5, 1981, in the Morbidity and Mortality Weekly Report, the Centers for Disease Control and Prevention (CDC) reported the first cases of what would later be known as AIDS. In the 1990s with the development of highly active antiretroviral therapy (HAART), also known as combination antiretroviral therapy, the life expectancy of people with HIV has increased significantly.
HIV advocate Tez Anderson, who has been living with HIV since 1983, founded HIV Long-Term Survivors Awareness Day on June 5, 2014, to honor long-term survivors of HIV and raise awareness of their needs, health issues, and journeys. According to the CDC, nearly half of people with HIV in the United States are aged 50 or older, and many were diagnosed with HIV in their younger years. 
People with HIV are at increased risk of certain comorbidities compared to people of similar age without HIV. Furthermore, people aging with HIV face both age-related and HIV-related stigma. Long-term survivors of HIV may experience complications associated with long-term treatment or exposure to the virus. The toxicity of many early HIV treatments caused life-altering side effects, including lipodystrophy (fat accumulation or wasting). In addition, research has shown that many aging-related conditions occur more frequently in older people with HIV, including cardiovascular disease, diabetes, renal disease, and cancer.
Before the development of HAART, most people with HIV died within two years of the onset of AIDS. Recently, researchers found a nine-year difference in overall life expectancy between people with HIV and those without HIV. The difference was smaller (6.8 years) for people with HIV who initiated treatment when they were still healthy, emphasizing the importance of taking HIV medicines as soon as possible after HIV diagnosis. People with HIV who consistently take antiretroviral therapy can achieve an undetectable viral load, which means they cannot transmit HIV to others, a concept known as Undetectable = Untransmittable, or U=U.
The National Institutes of Health (NIH) supports basic, translational, and clinical research across NIH Institutes, Centers, and Offices (ICOs) to increase understanding of these comorbidities and their prevention and management, as well as their relationship to aging and HIV. The NIH Office of AIDS Research (OAR) launched the HIV and Aging Signature Program in 2022 to catalyze interdisciplinary research and training at the intersection of HIV and aging. OAR has convened a working group co-led by the NIH National Institute on Aging (NIA) that endeavors to link NIH, people aging with HIV, researchers, and relevant U.S. government agency partners in discussions to foster collaboration, identify research gaps and opportunities, facilitate integrative research and training, and promote rapid implementation of research results.
Check out these HIVinfo resources to learn more:
Social Media
Use the hashtag #HLTSAD to follow the conversation on social media. Check out the "Use Digital Communication" resources on the HIV.gov HIV Long-Term Survivors Day webpage for tips on how to amplify the conversation and spread awareness on social media.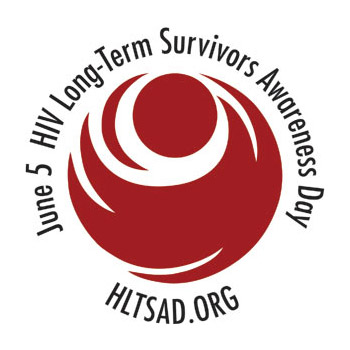 NIH Office of AIDS Research (OAR)
FY 2021–2025 NIH Strategic Plan for HIV and HIV-Related Research (NIH HIV Strategic Plan) The NIH HIV Strategic Plan provides a roadmap for NIH to guide HIV and HIV-related research and direct HIV research funding to the highest-priority areas to help end HIV. NIH has several priorities for HIV-related research. One of these priorities is to address HIV-associated comorbidities, coinfections, and complications. The NIH HIV Strategic Plan identifies research into complications from long-term HIV disease and long-term use of antiretroviral therapy as a key research area. Learn more about the NIH HIV research priority to address HIV-related comorbidities, coinfections, and complications on this OAR webpage.   
Clinical Trials Related to Long-Term Survival with HIV
Additional Information and Resources