National Latinx AIDS Awareness Day
October 15 is National Latinx AIDS Awareness Day, an annual observance organized by the Latino Commission on AIDS, the Hispanic Federation and other organizations. This annual observance raises awareness about the impact of HIV on the Hispanic/Latino communities in the United States and help governmental and non-governmental organizations address concerns raised by the Centers for Disease Control and Prevention (CDC) about widening, yet largely unrecognized, HIV infection disparities among these populations. The 2021 theme is, "It's time to act. It's time to end HIV."
HIV disproportionately affects Hispanic/Latino communities. The CDC estimated in 2019, that of the 36,801 new infections in the U.S. and territories , 29% (10,494) were among Hispanics/Latinos (see HIV and Hispanic/Latino People). This is important because the U.S. Census Bureau estimates Hispanics/Latinos account for only 18.5% of the total population. There are several challenges that need to be addressed to reduce the disparity of HIV infections in Hispanics as part of the CDC's high impact prevention (see High-Impact HIV Prevention CDC's Approach to Reducing HIV Infections in the United States [PDF]), including:
Knowledge of HIV status: In 2019, the CDC estimated that for every 100 Hispanic/Latino people with HIV, 16 did not know they were infected. Testing is a critical component of prevention efforts because when people learn they are infected, research shows that they take steps to protect their own health and prevent HIV transmission to others. It is important for Hispanic/Latino people with HIV to know their HIV status so they can start taking HIV medicines as soon as possible. Studies have shown that starting HIV treatment early is the most effective way to prevent the long-term consequences of HIV.
Sexually transmitted diseases (STDs): According to the CDC, Hispanic/Latino people have higher rates of other STDs than the general population. Having another STD can increase a person's chance of getting or transmitting HIV (see STDs and HIV – CDC Detailed Fact Sheet), and studies have shown STD treatment may reduce HIV viral load. Therefore, STD screening and treatment may reduce risk for HIV transmission.
Access to HIV prevention and treatment services: Immigration status, poverty rates (15.7% for Hispanics of any race vs. 7.3% for non-Hispanic Whites), migration patterns, lower education levels, and language barriers may make it harder for some Hispanic/Latino people to get HIV services.
The CDC is promoting HIV testing, prevention, and treatment through the Let's Stop HIV Together campaign, which is part of the national Ending the HIV Epidemic in the U.S. initiative. Also see the CDC's high impact prevention (High-Impact HIV Prevention CDC's Approach to Reducing HIV Infections in the United States [PDF]). The only way to know your HIV status is to get tested. Find HIV prevention services, including HIV testing, near you at the CDC HIV Testing webpage.
Browse the links below to learn more about this annual observance and find HIV-related information specific to Hispanic/Latino people.
The U.S. Government recognizes National Latinx AIDS Awareness Day.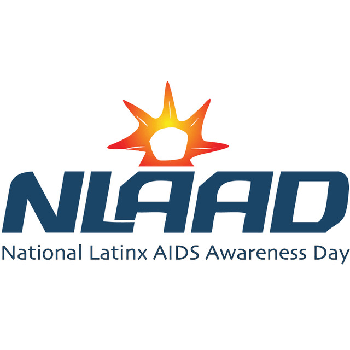 National Latinx AIDS Awareness Day Webpages
NIH Research Related to HIV and AIDS in Hispanics/Latinos
Current Research Related to HIV and AIDS in Hispanics/Latinos
Additional Information and Resources
From CDC:
From The Latino Commission on AIDS:
From HIVinfo HIV Source: